Over hundreds of thousands of followers, high name recognition and campaigns with well-known brands - that's how you can describe successful Instagram influencers. But one of the most fundamental questions that Instagram Influencers face is: How do I improve my account performance on Instagram? And can I get more followers on Instagram? We'll give you some tips and tricks on how to improve your Instagram performance.
Contents
1. General tips for success on Instagram
First of all, here are some basic tips and tricks for a high-quality Instagram account listed. These should be respected in any case, if you want to establish yourself as an influencer on the platform Instagram.
Content is King:
A high-quality, but also exceptional content is essential for the success of an influencer. This also includes the corresponding image editing of Instagram photos. Finally, your community should provide first-class content, and you should also maintain this quality.
Bring a variety of topics!
Take your time writing your text! Emotional texts or little stories are particularly well received
Edit your photos to make them look appealing to your followers! Use apps like Lightroom, Photoshop, VSCO and avoid Instagram filters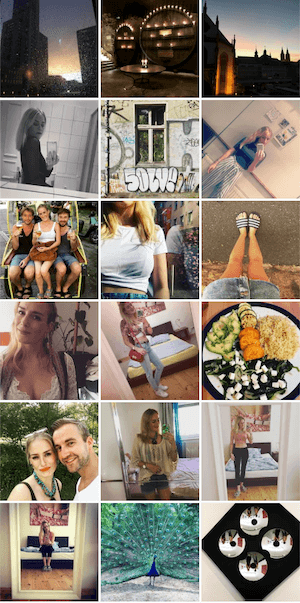 Instagram account without editing & Instagram account with editing and concept
###Proper hashtags: Hashtags should also be used for content. They are supportive and disseminate the content to attract more Instagram users. However, it makes no sense to use hashtags just to be found randomly. It's critical to use the proper hashtags that fit the content
Use about 5-10 hashtags
Use small, less well known, unusual hashtags
Work with local hashtags to earn "real" followers of your city who are particularly excited about tips in your area
Avoid the hashtags #love, #instagood, #photooftheday, #fashion, #beautiful, #like4like or #picoftheday, as these are used too often
Use emojis:
Emojis mix up your content and give it a certain charm and wit. Below you can see the most used emojis on Instagram, as well as the most influential emojis.
The most used emojis on Instagram

Emojis on Instagram with the highest impact

Add matching emojis to the current situation. For example, at Christmas the Christmas tree, at Easter an Easter bunny, when you're on vacation, a palm tree, etc.
Emotional texts related to the photo:
Followers love stories. Use storytelling and emotional lyrics to tell a story about your photo. Thus it creates some tension in your content, and it also takes your community into your world. This builds a bond between you and your followers.
Share videos:
Especially videos reach a high level of attention in the social media world. On Instagram, you can insert videos up to 60 seconds long in your feed.
Short and sweet! Your followers won't stay tuned if your videos are too long
Use for longer videos IGTV (Videos up to about 10 min possible)
Interaction with other accounts:
Networking with other accounts can have a positive impact on your brand awareness and follower count. By liking or commenting on other Instagram accounts, you automatically draw attention to your account. However, it is vital that you interact with similar accounts to yours.
Interaction with followers:
It is also essential to interact with your existing followers. The feeling of closeness and appreciation is a crucial factor to reach out to your community at all.
React on comments
Like pictures of your followers, which you like best.
Offer a Q & A where your followers can ask you questions (One of the best ways is live)
Create surveys
Enable win contests for your followers
Post stories:
Based on your stories, you can take your followers along in your "Everyday life." This strengthens your bond, and above all, it maintains the community. Due to the decreasing visibility of Instagram posts in your feed, stories are becoming more important to keep in touch with your community.
Bring color into play! Color your image with the desired color and then erase certain spots again. So you create a surprise effect and make your followers curious, for example, on your new photo in the feed.
Color letters or whole words in color. So you lift out your text or statement even more.
Also use custom colors instead of standard colors. You can do this with the color compass on Instagram.
Zoom in your videos to highlight something. This also works on Instagram with one hand.
If you're filming in the dark, use the moon button to lighten your surroundings.
Face filters à la Snapchat are also very popular for adding variety and humor.
Fill your story with matching hashtags, location and give it the finishing touch with moody music.
Bring variety to your stories with pictures, videos, boomerangs, and the rewind feature.
Use analytics to analyze posting times:
True to the motto "Time is money", certain posting times are essential to disseminate your contributions to your followers.
Choose times when your followers are most accessible. For example, in the morning (from about 6 a.m. ), at lunchtime (from about 12 p.m.) or in the evening (from about 18 p.m.) You can find the exact times of your community in the Instagram analytics.
Track the days where your followers are most on Instagram in analytics. In general, the days between Monday and Friday are a good way to post. Friday is often the best day for a posting.
Publish with links on other networks:
Usually, you can find a large community, which you can achieve, also on other networks. With links, it makes sense to draw attention to your own Instagram account.
Point out to your Instagram account, for example on your Facebook, Twitter, Snapchat, Tik Tok and Co. profiles.
Publish interesting content (topic-related articles, videos, etc.) and add for example "And if you want to see more, check out my Instagram account."
Based on these tips, you can create a sure foundation for a successful Instagram account. Afterward, the individual KPIs "engagement rate", "follower number" and "posting plan" are listed in detail. Here you will find out how you can improve yourself in each area to achieve maximum success as an Instagram influencer as a whole.
2. How do you improve your engagement rate?
If you are looking for a successful Instagram account, you should first be aware of the following term: The engagement rate. What is this about? Obviously, Instagram is the platform for engagement. If you compare this with other platforms such as Snapchat, Facebook, and Co., interaction is significant on Instagram and forms a fundamental building block. Hereafter, the engagement rate is explained in detail:
2.1 Definition
What is the engagement rate? The engagement rate describes a key indicator in influencer marketing. It measures the interaction and activity of an account or rather its content with the respective followers. The result of the key figure is outputted as a percentage.
How do I calculate the engagement rate? All likes and comments are added together and divided by the total number of all followers of the influencer.
Formula engagement rate:
Engagement rate = (Likes + comments) / Number of followers x 100
For example: Your Instagram post receives 500 likes and 10 comments. You also have 5,500 followers on your Instagram account.
Calculation: 510 / 5.500 x 100 = 9,27% - So you have a engagement rate of 9,27%
Why is the engagement rate important? The engagement rate is a key indicator in influencer marketing. On the one hand, because the quality of the content can be analyzed. But it is also possible to evaluate the link between influencer and follower. These two factors are essential in a campaign to bring the product efficiently to potential buyers. In particular, micro influencers often generate a significant engagement rate, as they are more interacting with their followers due to their lower subscriber count.
2.2 Tips to improve the engagement rate
Here are some useful tips on how to increase your engagement rate. This should help you to highlight your "quality trait" as an influencer.
Hashtags: Think of a cool, personal hashtag and use it on all your social channels. This reinforces not only the recognition value but also your followers or other accounts can mark you with the hashtag. It is crucial that it is not necessarily positive to use hashtags that match the picture itself. Instead, the hashtags should reflect the theme of your account. It is also helpful to use hashtags whose volume is less than one million. Otherwise, there is a danger that the post will get lost in the masses.
Comments and messages: Respond to ANY comment. Thus you can create a personal connection to your followers and not only gain their trust but also their long-term loyalty. The same applies to news. You should respond to questions, compliments, or even critical comments. This is not only great for your followers, but it also helps you find out more about your community.
Emojis: Define a specific emoji for you and your community to comment it under each of your posts. This welds the community together and sets you apart from other influencers/communities. Use for example heart emojis on lovely messages from your followers to convey emotions better.
Text posts: Text contributions, such as motivation sayings, quotes from famous people, etc. often come in favor of Instagram users. This manifests itself mainly through a high level of interaction in the form of likes and comments. As sayings or quotes arouse emotional feelings, it is often an incentive for Instagram users to interact. A good mix between text and other content not only adds variety to your feed, but it also pushes your engagement.
Reposting: Repost content from your followers - this strengthens the community! This is a great gesture to show that you too are interested in your followers content.
Stories: If you upload stories regularly, the interaction between you and your followers will improve. By using functions such as surveys, questions, quick reactions, response options, and swipe ups, it is possible for both, followers and influencers, to interact. Besides, it is quite possible that followers who see your story will also be aware of your feed.
Location Tag: If you add the location to your posts, it will be accessible to a broader audience. The visibility of your post increases and thus there are more interactions with Instagram users.
Incentives: Create incentives for your followers, such as competitions, raffles, etc. This can also be done in cooperation with brands and their products. Thereby you create great interactions based on likes and comments as part of your raffle. This interaction will not only attract new potential followers but also strengthen your long-term commitment to your community.
3. How do you increase your follower count?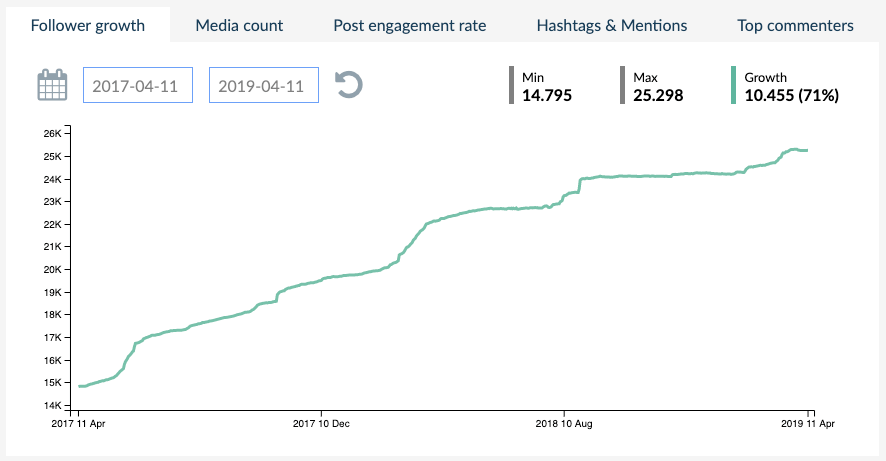 Follower growth on Instagram
Concept design:
Think about a concept for your feed and implement it consistently. This results in an overall construct, which creates the recognition value.
Consider in which area you want to act as an influencer, for example, Fashion, Beauty, Sports, Lifestyle
Which topics / attitude do you represent? For example, Animal welfare, environmental protection, etc. Make sure that your content reflects these issues
Feed design:
Make sure your feed is clean and consistent. Try to develop your own "style" that stays in the minds of your followers.
Try to vary between photos, videos, boomerangs, etc. according to your style. This brings some diversity to your feed and does not make it "boring".
Take photos from different angles and perspectives
Share photos, videos, boomerangs
Stay in one color world and do not use too many different filters
Use these varieties with caution, however, in order that your feed still appears calm and balanced!
Inspiration for new ideas:
Be inspired by successful influencers with the same focus, see what hashtags they use, which topics they are dealing with and use that for your account as well (of course no copy & paste;)).
Trend consciousness:
Leave nothing to chance and always stay up-to-date. Not just about new topics in your industry, but also what's new on Instagram. Tell your followers about it and ask for their opinion. So you not only provide them with novelties but also learn more about their interests/preferences - an absolute win-win situation!
4. How do you optimize your posting plan?
Posting plan:
Think about a posting plan with solid days. If you plan in advance, you will avoid time constraints and escape posting stress. Here you can also use theme days, such as the "Throwback Thursday". To create a structured content plan e.g., apps like "Unum" or "Later". This allows you to plan your feed accurately and to determine how the feed will look with your planned content.
Pre-produced content:
Put a folder with pre-produced content on your phone or computer. You can post the content each time you do not have anything else that you could otherwise publish because, for example, you currently do not have time to produce new content. Thus, your followers never come away empty-handed.