Whether fashion halls, beauty or lifestyle - everyone will find something on YouTube. Around 1.8 billion users a month are on Youtube (status as of 2018). Thus, the platform offers an enormous range. That especially videos go down well with the community is no longer a secret. Influencers or creators can give their followers an even more intense insight into their lives. But success on YouTube does not come by itself. This begs the question - What points on YouTube should be followed to shine with a successful channel? Here are some tips and tricks on how to make your YouTube channel even more successful.
Inhalt
1. How to increase video views?
To increase the total number of your "video views", there are many possibilities. Some of them we have put together for you below:
Contact your community:
Call on your existing viewers to subscribe and enable notifications for new videos. You should address yourself directly to your viewers so that they feel appealed, e.g., through a call-to-action at the end of the video in the form of a request.
Get the opinion of your viewers:
Ask your viewers which content they want to see. In this way, you know what your community is interested in and you can align your content to your target group.
Create playlists: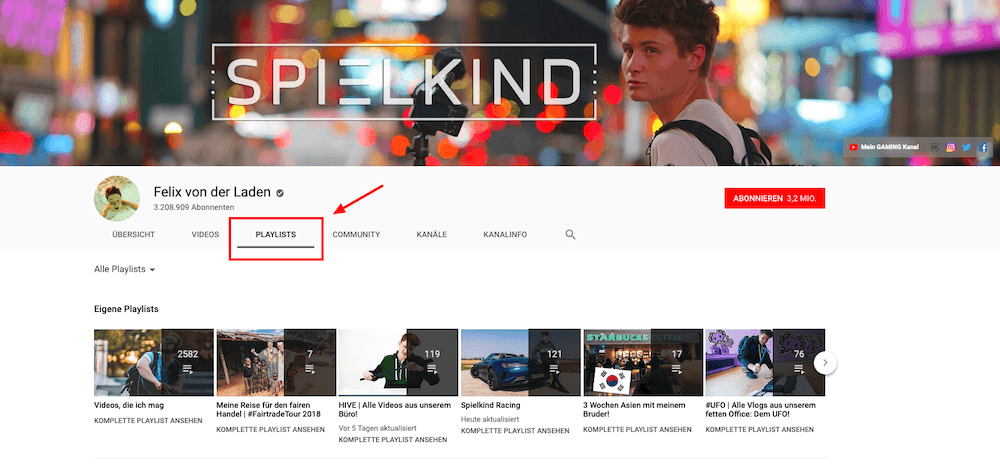 Screenshot YouTube-Channel Felix von der Laden
Creating playlists is also a point that should not be forgotten. After all, you should not underestimate the effectiveness of the "auto-play" feature. Who does not know to go on YouTube for only one video and then remain there for hours? The most important thing is: Arrange your videos thematically suitable in your playlists!
Create endcards / credits:
Use endcards to promote your content. Therefore you not only initiate the end of the video but also activate your viewers to continue watching. It makes the most sense to refer to videos with similar content, but also currently uploaded videos are often clicked.
Integrate your "brand" here. That means, think of a consistent design that you use for your channel
As endcard, you can show both a picture and an animation
You can show your endcard in different ways, for example, you can keep the video running by making it smaller and fading in the endcard, or just letting the music keep running, etc.
Make memorable titles:
Click here for the YouTube Academy. Make sure your video titles are "search-friendly". Short and concise - so it not only stays in the head of your viewers but can also be found easier. Of course, the title should also have thematic relevance to your video, so that the audience knows what is roughly in the video. When creating your title, ask yourself the following questions:
Based on your video content, which words would you search?
What is the sticking point / the unique thing in your video?
What could be exciting for your viewers?
Also, you can add matching tags to your video. You can find them under "default settings for uploads". For each video, you should adjust the tags. These tags enable the YouTube algorithm to rank your video thematically. Since YouTube videos are also frequently viewed or found through Google Search, you should also be familiar with the topic of SEO (Search Engine Optimization).
Creative thumbnails:

Screenshot YouTube-Channel Felix von der Laden
Create irresistible thumbnails. After all, the thumbnail is "the first impression", and as we all know, that should be convincing. After the upload, YouTube will automatically suggest three thumbnails for you. However, it pays to create your individual thumbnails. The thumbnail should fit the theme of your video and above all, only promise what the video really can offer. The recognition value can increase by your own created logo of your channel which can be seen again and again on the thumbnails.
Optimize your account:
Optimize your account to create a coherent overall picture. Include all your social channels to make viewers aware of your other accounts. Do not hesitate with creativity. Create a suitable design for your channel icon and your channel banner. Also, create a meaningful text for your channel description so your viewers get to know you and your channel quickly.
Add video descriptions: With 5,000 possible characters, there is enough room for a detailed description. However, only 115 characters are displayed in the search results. Therefore, bring the content of your video to the point in your first two sentences. Later in the text, you'll be able to use your keywords that did not fit in the title, and you can also describe the content of your video better.
Create a channel-trailer: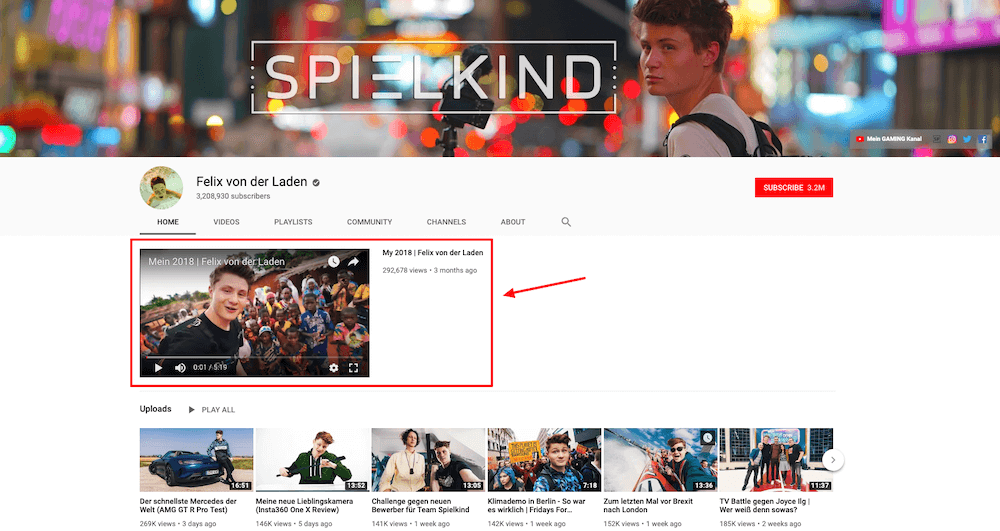 Screenshot YouTube-Channel Felix von der Laden
Produce a responsive channel-trailer to let new visitors know what content they find on your channel.
In the beginning, tell your viewers what your channel is all about
Also show why it is worth subscribing to your channel
Tell how many videos you offer to your viewers per week
Show yourself in your video "authentic". You may also like to tell something about yourself briefly. So your viewers will find you sympathetic and are always happy to turn up
2. Get subscribers
There are also some tips and tricks to increase the number of subscribers:
Use watermarks:
Add a watermark to your videos. It will give your video a "stamp" and viewers will immediately know to whom they can assign the video and how they can find you.
Enter collaborations:
Try to collaborate with other creators. You will benefit from the collaborations. Eventually it will increase your reach. Make sure it's always give and take. If you can offer something to other creators, you'll be able to organize collaborations quickly.
Produce high-quality content:
Act here true to the motto "Content is king". This also includes the use of adequate editing programs. An appropriate quality not only promises to attract more viewers but also preserves existing ones.
Find your niche and topics for which you can bring passion. That's the only way to convince your viewers
Cover current topics/trends to keep your viewers up-to-date
Create videos that have some added value for your viewers, for example, everyday tips, instructions for DIY ideas, etc.
Organize guest appearances by other creators in your videos. Especially creators in the same genre as you are relevant to your target audience
Make regular content - but always remember: quality over quantity!
Activate the "Related channels" function:
This allows visitors from other channels to discover your channel. This feature attracts a lot of new viewers to visit your channel.
3. Improve engagement
You can try the following things to improve your engagement, i.e., comments, likes, etc., on your channel and your videos.
Interact with your community:
You can do this both in your comments and in your videos. Affordability and appreciation play an essential role in your community because ultimately you show them that you are also interested in them.
Mention your viewers in your videos, if they give you new ideas for your videos and answer their questions about a topic
Include relevant videos of your subscribers in your videos
Ask your viewers in your videos questions to get them involved as directly as possible. Because of that it is easy for you to find out what your viewers want to see and what interests them. Based on this, it is now possible to create target group-specific content.
Respond to ANY comment: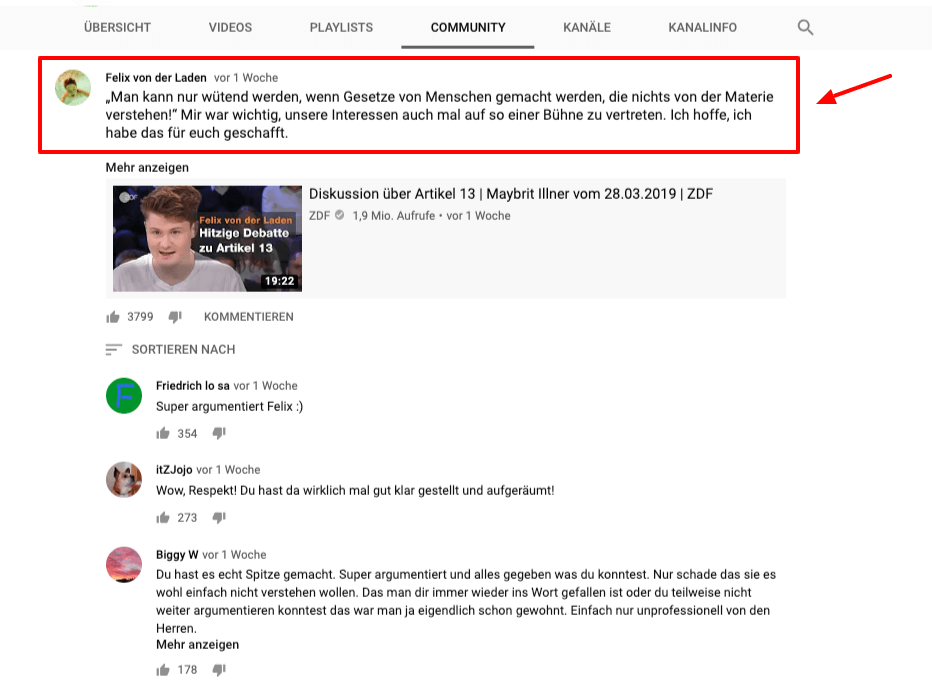 Screenshot YouTube-Channel Felix von der Laden
Respond to messages from your viewers and do not neglect them. The relationship with your viewers is important in order to keep them in the long term in your community.
Contact your community directly:
Make your community aware of, sharing, commenting and subscribing. In this way, you ask for them to voice their opinion, e.g., at the end of the video. So you can optimally see what goes down well with your viewers and what is their opinion on the subject. Build on it and produce more videos to a popular topic.
4. Optimize the posting plan
It has been shown that it is crucial for many users that you post new content regularly. Therefore it is vital to note the following points:
Prepare a posting plan:
Choose solid days on which your followers can expect videos from you. Communicate these days in every video and also include it in your channel description. Publish at least one video per week. With the postings plan, ideally, with already prepared content, you save yourself tremendous time stress. Most of all, it helps you to maintain your regular postings and does not let your community down.
Post at specific times:
You can do a lot with this. The time after the upload is especially important, so be sure to post at specific times.
The right timing depends on the demographics of your viewers (age, gender, background, etc.), which is quite easy to see in your YouTube Analytics
Younger target group: Posting from approx. 3 pm (after school)
Older target group: Posting in the morning from about 6 am (before work), at noon from about 12 pm (lunch break), in the evening from about 6 pm (after work)
Upload videos just before the rush hour to reach as many viewers as possible before the "peak" (for example, if most viewers watch the videos between 7 pm and 8 pm, it makes sense to upload the videos at 6 pm)
Posting days: They depend on the target group and the topics you are addressing. For example, it makes sense to upload tutorials to a more elaborate hobby on the weekend, because your viewers can do this more on weekends than during the week
Testing: In any case, you should test different times, days, etc. for a while and compare them
5. Pay attention to the average view duration
It is also essential to pay attention to how long your audience views the video on average. Therefore, note the following points:
Appreciate the time of your viewers:
Make your intro short and crisp. You should captivate your viewers within the first 8 seconds of your video. Besides, your videos should have a certain suspense, similar to a movie or a book.
Also important here, create playlists:
Ideally, you'll create separate playlists for different audiences. For new viewers on your channel a playlist of your best videos - after all, the first impression counts. But also other playlists make themselves profitable., e.g., for viewers who are on your channel because you have a specific skill, speak about particular themes, etc.