Content
The art of finding the right influencer
Influencer marketing continues to be on everyone's lips. In recent years, a clear upward trend has been visible and influencer marketing has become firmly established in the digital world. The use of influencers for marketing and communication purposes, represents a great added value for brands. Influencers can not only offer a high reach, but also possess a target group that can be significantly influenced.
Above all, the proximity between influencer and follower creates an advantage over traditional advertising. Forecasts by the BVDW (German Digital Industry Association) show that companies will continue to include influencer marketing in their marketing mix in the future. Likewise, spending on influencer marketing is increasing from year to year. A clear upward trend is discernible.
However, the first step to successful influencer marketing is searching for a suitable personality. But how can I identify the right influencer for my marketing strategy? Who is even considered an influencer these days and how do I use influencers correctly for myself? These and other questions will be clarified in the following.
1. When is a person considered an influencer
Finding the right influencer on Instagram and the like is easier said than done. Before you start searching, it should be clear who can actually be called an influencer or Instagram influencer and when someone is actually an influencer. The basis for this is a general definition of the term "Influencer", which reads as follows:
"Influencers are creative individuals who (1) regularly produce publicly produce publicly accessible content on a regular basis, who (2) are willing to > collaborate with brands in doing so, and (3) are collaborate with brands, and (3) whose content influences the behavior of > followers (…). of followers (…)." (Faltl, M., Freese, J. (2017): Influencer Marketing - Evolution, opportunities and challenges of the new component in the communication mix, GfM Research Series, 04/17, Zurich).
As can be seen from the definition, an influencer can be understood as a brand ambassador. This person creates valuable contributions for corporate communications through creative input. Another question that needs to be asked for successful influencer marketing is which groups of people are suitable as influencers. A distinction is made between four groups of people:
Blogger
Writing contributions and telling stories worth reading is particularly well suited to so-called bloggers. This type of influencer is popular because of their "storytelling", which builds a certain tension and thus testifies to quality. Bloggers are characterized above all by their authentic and credible posts. This therefore makes them an important and trustworthy mouthpiece within their community. Blogger @xeniaadonts is an optimal example here, due to her diverse blog. Especially the areas of fashion and lifestyle are thematized by Xenia. In addition, there are often also suitable photo galleries, which visually support the article. A blog is much more time-consuming than a classic Instagram channel. Thus, the price for blog posts also increases. For certain product groups, this could be the optimal way to bring their product/brand to the front.
Social Media Influencer
This group of people interacts on social media channels, such as Instagram, Facebook, Twitter and YouTube. Due to their high reach, they reach a large number of followers of one or even several target groups. Social media influencers measure themselves by their likes, comments, shares and reposts. Based on creative posts and stories, they aim to achieve exponential growth as a social media personality. One of the most famous social media influencers is @pamela_rf, who now has over 4.6 million followers on Instagram. In addition, there are numerous cooperations with brands, such as Puma or Hunkemöller.
Journalists
They understand their craft perfectly and can also use this ideally for the tasks as an influencer. But it's not just their affinity for copywriting that represents an essential skill for a successful influencer. Their sense for trends as well as their knowledge of the industry also offer a significant advantage. Journalists position themselves as experts, which clearly differentiates them from other groups of people. Journalists have a knack for looking at issues objectively. Influencers, on the other hand, often tend to include their personal opinions in posts. This doesn't have to be a bad thing, but at first glance the contributions of a journalist seem more professional and well-founded.
They are represented both in the social media area, such as Instagram, and as authors of blog posts. A prime example of this is InStyle Editor-in-Chief @wengschondennschon. She convinces not only as a journalist, but also with her 23k subscribers on Instagram. On her account, everything from fashion posts, to interior snapshots and landscape photographs can be discovered. Her editorial contributions can then be read every month in the current issue of Instyle-Germany.
Public figures / celebrities
Whether athletes, actors, musicians or models. Celebrities already have a well-established community, independent of Instagram and the like. With interactions on social media, as well as blog contributions for brands, they expand their reach and awareness. Cooperation with celebrities is particularly attractive for companies, as they are often firmly established in the industry. Currently, athletes are leading the way for us in Germany. We don't like to follow anyone as much as our national heroes. You can find an overview of the most successful Instagram channels in our magazine article on Influencer Marketing.
In addition to athletes, personalities from various TV formats are of course also at the top of the influencer rankings. Here, @lenagercke can be cited as an example. As the winner of the first season (2006) of Germanys next Topmodel, she was already able to make a name for herself. But also as an influencer, the model is on everyone's lips and convinces as brand ambassador of, for example, BMW M or About You.
It should be added that these groups of people can certainly mix. For example, social media influencers can also run a blog, and bloggers are also usually represented on social media channels. Thus, there is no clear separation. Nevertheless, it is obvious that all groups of people are quite suitable as influencers. Whether looking for bloggers or other groups of people, brands can already start their selection for efficient influencer marketing here and find the appropriate channel for themselves.
2. From Nano to Mega Influencer
In order to find the right influencer, the size range of the influencers should also be taken into account. A distinction is made between nano-, micro-, macro- and mega-influencers. These are essentially characterized by their reach, but also by means of interaction with their community. Depending on the goal of my marketing strategy, the selection of the right influencer is crucial. The misconception that you always have to choose the influencer with the greatest reach has long been disproved. Other factors such as the engagement rate, i.e. interaction with the community, are increasingly coming to the fore. Below is a list of the various influencers by account size:
Nano-Influencer
The number of followers of nano-influencers is in the three-digit range. Despite a rather limited reach, they are characterized above all by their high credibility. In addition, nano-influencers are more interactive. The community is a very honest community. They follow the influencer because they are interested in the person themselves and thus their opinion. Engagement is usually highest here.
Micro-Influencer
If you look at the number of subscribers of micro-influencers, it is in the four- or five-digit range; this corresponds to a medium reach. Micro-influencers can also be described as subject and/or industry experts. Because they are still very close to their followers, micro-influencers have a certain credibility and authority. These aspects are particularly advantageous in local influencer marketing with small to medium-sized companies. In addition, so-called "parasocial relationships" can even be established between the influencer and the community.
Macro-Influencer
The reach of macro influencers is in the six- to seven-figure range. Due to this high number, they reach a relatively wide target group with various interests. However, at such a scale, there can also be a greater distance between influencer and follower. If you want to promote a specific product or a niche topic, it is more advisable to use smaller influencers with a defined target group.
Mega-Influencer
With a community of over seven figures, mega-influencers already enjoy a "celebrity status". These are often personalities who interact as classic testimonials for a brand. They have a certain "fan base" from the outset and also secure their recognition as influencers in the social media sphere. Often, mega-influencers also appear in other formats such as TV, radio, etc. in addition to social media platforms. They are therefore not pure influencers, but rather persons of public interest.
3. Basis: Develop a marketing strategy
Successful influencer marketing requires a certain foundation. So before you want to find the right influencer on Instagram and the like, it makes sense to do some preliminary work. This not only makes the search easier, but also makes it go faster. Developing a suitable marketing strategy thus forms an efficient approach. However, there are some points, which are to be considered with the development of a marketing strategy:
Target setting: As with similar projects, it is essential to set a goal before the search. This should show what the brand wants to achieve with its product and the use of the influencer. This is especially necessary to set the criteria for finding the right influencer.

Tasks of the Influencer: Further, it should be considered to what extent the influencer or blogger should be active for the brand / product. This means, for example, whether the influencer's task is to publish a photo or video post. Whether text content should be created in addition to image content and on which channels the generated content should be played out. In addition to the classic posts via Instagram, an influencer can also be active as a so-called Brand Ambassador for a company/brand in the long term.

Benefit factor: The use of, for example, an Instagram Influencer should not only bring a certain benefit to the brand, but also to the Influencer himself. This incentive, by means of a quid pro quo, should move the social media personality to agree to a cooperation. But this can also create incentive for a long-term collaboration. On the one hand, the relationship with an influencer should contain many personal characteristics; on the other hand, this is also a classic business relationship in the sense of supply and demand.

Target groups: In order to market the product efficiently, the target group of the brand / product, should match that of the influencer as well as possible. Therefore, it is first important to define a target group, which you want to reach with the product. Only then is it possible to find the right influencer on Instagram and the like and use them for the marketing of a company. If I want to market my product in Germany, for example, it doesn't help to use a well-known German influencer whose main target group is in the USA. Many factors are necessary to find the right influencer. This is where professional marketing agencies like Reachbird can help.
4. 6 ways to find Instagram influencers
Due to the large number of different social media influencers, bloggers, etc., it is not easy to find a suitable influencer for your brand. The right approach is therefore required when searching for influencers, bloggers, etc. The Instagram platform is particularly suitable for this. Instagram is preferably about visual impressions and young people in particular react accordingly to these visual stimuli.
More and more Instagram influencers are sharing their interests with the public and sometimes displaying amazing entrepreneurial spirit. So why is it relatively difficult for companies to find suitable influencers on Instagram for their product or service? The fact is that the search for a suitable Instagram Influencer must first be precisely defined. In this way, certain indicators can be filtered out, which can be helpful in the search. In the following, we will show ways to find the right influencer, blogger, etc. on Instagram efficiently and in a time-saving manner:
4.1 Find Instagram Influencer with Hashtags
Entrepreneurs or advertisers who want to find Instagram influencers must first define them precisely. This means that the respective product is first examined marketing-specifically and corresponding analyses are created. It is always advisable to create a keyword list suitable for the company and the product. Hashtags are a great help in finding suitable Instagram influencers. Using various keywords, the right influencer can be found quickly via the hashtag search. If you want to get a comprehensive overview, you can also take a closer look at the followers and comments of an influencer and consider to what extent the overall image could fit your own product. Here it is worth investing time and trying out different hashtags.
4.2 Use search fields effectively
Like most social networks, Instagram offers search fields that help you find the right influencer. Here it is important to enter the specific search terms or keywords. Sometimes combinations of words can also be helpful, if not necessary. The same applies to the English language or colloquialisms. The more extensive the search, the higher the probability of finding exactly the Instagram Influencer who meets one's own entrepreneurial needs. This is especially true if hashtags and follower analyses are also carried out. In the meantime, in addition to search terms, theme areas such as travel, fashion, automotive, etc. can also be filtered.
4.3 Involve personal relationships in the search
It's quite possible that you can find people in your family or circle of acquaintances who can give you tips on choosing an influencer. Young women, for example, often have a preference for cosmetic products and prefer to get buying tips from the Internet rather than from brick-and-mortar stores. These interested parties are sitting right at the source and should definitely be involved in the search. A survey would be one way to find suitable Instagram influencers for a certain topic.
4.4 Google research for the right Instagram Influencer
Google itself is certainly also an effective option when it comes to finding Instagram influencers. In the search mask, not only individual words or word combinations, but also entire sentences can be entered. In addition, it is also possible to search for Instagram influencers in connection with various themes, such as attitude towards animal welfare, etc. Especially such values are important for brands to also convey the right message to their target group.
The influencer must stand behind the topic to be able to market the product authentically to their followers. The interesting thing about searching for Instagram influencers in Google is that different search results can appear depending on how the phrase is rephrased. Therefore, it is worthwhile to allow enough time for this research on Google. Overall, it is important to make a rough preselection based on the search results. Afterwards, more detailed information can be obtained in order to determine the appropriate influencer. Gooogle now also offers its own lists of the most successful influencers for a certain topic.
4.5 Instagram Influencer Analysis
If a company has now made an initial rough influencer selection on Instagram with the help of Google, the search fields or the hashtags, the influencer can and should finally be examined more closely. For this purpose, the corresponding profile is analyzed more specifically.
Here, a distinction can be made between a quantitative and qualitative analysis:
First to the quantitative analysis:
Growth: An important point in the quantitative analysis is the follower growth of an Instagram influencer. However, this should be viewed with caution, because fake followers can distort the growth. Therefore, pay attention to an organic increase in followers.

Number of posts: Here, it should be observed how often the Instagram Influencer publishes a new post. It is important that this happens regularly. In this way, the influencer proves a certain reliability to his community. The rule here is quality over quantity.

Follower engagement: This describes the intensity of followers' engagement with the Instagram influencer's content. This includes the number of likes, comments and shared content. The latter should not only be considered on Instagram itself, but also on other platforms, blogs or profiles. An influencer may be very active on Instagram, but let his Youtub channel or blog slide. Thus, only a pure cooperation on Instagram and not on multiple platforms would come into question here.

It is also interesting to see how often, but also where the Instagram influencer was tagged. This makes it possible to see possible contacts or collaborations with other social media personalities, as well as companies. It is also easy to see which brands the influencer has already worked with and what values he or she stands for.
In the following, criteria of the qualitative analysis are described:
Influencer language style: It is important to ensure that the Instagram influencer's language style corresponds to the brand's expectations. A certain quality is indispensable here. However, this can vary depending on the target group addressed by the influencer. For a beauty product, for example, feminine, flowery language is recommended. A scientific topic, however, should be described in a factual and fact-based manner.

Influencer likeability: A certain charisma and likeability of the social media personality should always be present. To what extent this corresponds to the target group of the company can only be weighed. The following should apply here; if the company/brand finds the influencer likeable, the consumer will most likely find the influencer likeable as well.

Influencer Topics: Topics that the Instagram influencer or blogger addresses do not just reflect the interests of the social media personality. To find a suitable influencer, they should also fit the brand. Differences in this area often lead to a negative sentiment between the target group and the brand.

Content quality: How content is communicated to followers is evidence of qualitative value. This shows how much effort the Instagram influencer puts into presenting his content and what qualities he has to offer. Many influencers are now professional content creators and can handle a camera and various editing programs professionally. Attention should be paid to these skills when selecting an influencer; should there be a need in this area.

As already described, it is essential that the target group of the brand matches that of the Instagram influencer. Only in this way is it possible to generate successful influencer marketing.
4.6 Find Instagram influencers with marketing tools
If you are looking for a suitable Instagram influencer, you can also use a platform such as Reachbird. This is a so-called all-in-one software, which creates relevant rankings when it comes to finding certain influencers. The marketing tool is a great help for the searcher when it comes to influencer marketing. Reachbird can offer the following help:
Keyword and image search engine: Using these functions, it is easy to find the right Instagram influencer. Using the search engine, keywords, hashtags, mentions or even images can be entered. This makes the search for social media influencers, bloggers and the like on Instagram more precise and promises a quick search process.

Filters and segmentations: To go into even more detail, filters and segmentations can also be used on Reachbird. These include the price range, as well as nationality and gender of the desired target group. The aforementioned filters can also be used for the Instagram Influencer itself. Additionally, it is possible to filter reach, main location, age and main audience of the target group.

Influencer recommendation system: For a simplified search for Instagram influencers, this function is also very helpful. Once you have found a potential influencer, Reachbird's search engine additionally displays similar influencers. This offers a larger but still targeted selection of influencers.

Influencer Insights: Not only the follower growth and the engagement rate can be viewed. Also the used hashtags, contained mentions and top commenters belong to the insights of an Instagram influencer.

Image and content analysis: If you want to get a more detailed overview of the Instagram influencer's image and content, this function offers the ideal opportunity. Reachbird's influencer search engine analyzes posted images and content of influencers regarding their engagement rate, comments and likes. On the one hand, the top posts are analyzed, on the other hand, the last 9 feed posts. If you want to get an overview of the entire content of an influencer, a link leads directly to the Instagram profile of the influencer. The country distribution of the followers, as well as their age and gender, can also be viewed.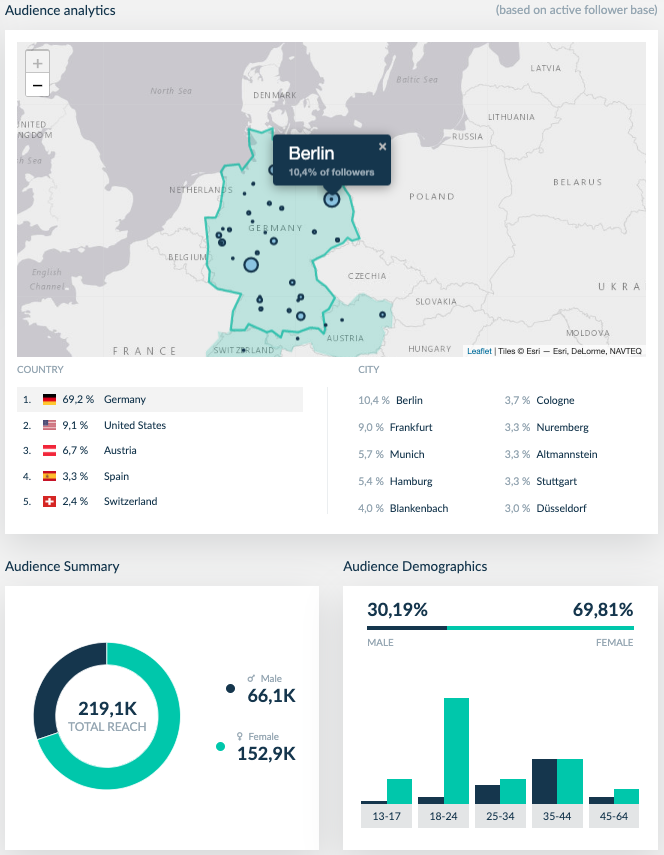 The search for the right Instagram influencer is rounded off by Influencer Relationship Management as well as analytical data and reporting. Of course, there are also numerous free influencer marketing tools on the market. However, their functions are limited beyond a certain point. Therefore, it is worth investing in more comprehensive analysis tools, especially to find the right influencer for your brand.
5. Summary
Influencer marketing is still an important communication tool. But finding a suitable Instagram influencer for your brand or product is not always easy. With the right approach, the search can be made easier and more efficient. First of all, it is important to get a general overview of the topic "Influencer". In doing so, you should ask yourself the following questions:
What defines an influencer?

Which groups of people are there?

Between which sizes of influencers can I distinguish? How does this affect the influencer's community?
Once these questions are answered, the basics are understood. In order to avoid randomly searching for bloggers, social media influencers and the like, a marketing strategy should be developed. This includes the following questions:
What goal am I pursuing by using an influencer?

To what extent should the influencer be active for the marketing of my product or brand?

What benefit is there for me as a company and what incentive do I give the influencer to work with me?

Which target group should the influencer reach?
After a basis has been created, the ideal Instagram influencers, bloggers, etc. can be actively sought. This opens up various avenues, which should definitely be used in combination to achieve an optimal result.
Definition of Instagram Influencer: Keyword lists, search functions on Instagram, hashtags, comments and followers.

Use of search fields: Keywords, specific search terms and word combinations.

Personal relationships: Tips among family and acquaintances, survey on specific topics

Google searches for rough selection: Words or word combinations, topics behind which the respective influencers stand

Instagram Influencer Analysis: Quantitative criteria (e.g., growth) and qualitative criteria (e.g., speaking style).

Influencer marketing tool: Reachbird as all-in-one software for detailed search for influencers.
It is clear that in order to find an Instagram influencer, blogger, etc., who optimally fits the brand, a certain amount of effort is necessary. Nevertheless, it is worth it to conduct a successful influencer marketing. Which way is best suited is up to each individual. Nevertheless, it makes sense to combine the individual options or weigh them against each other.
For sure, a free or paid marketing tool is a time-saving and efficient way to find Instagram influencers. Nevertheless, you should not exclude yourself on Google, Instagram, etc. to make the search. An initial elaborate search also provides the basis for further marketing projects.
Get in contact with one of our influencer marketing experts: commercial@reachbird.io